Hi there, I was just wondering if there was a way to set the color of the text which appears in the XFCE panel, e.g. "Menu" in the application menu applet, the time in the clock applet, etc. I know it's set in the GTK theme but I'm wondering how to override that and use a color of my choosing (the GTK theme in this instance is coloring the text grey and it's hard to read, so I want to make it white). Anyone have any ideas?
EDIT: Today I was pointed in the direction of a recently-developed app called "gtk-theme-config", which is available in
this PPA
. It was designed for Gnome 3, apparently, but works in XFCE as well. It shows up in the XFCE menu under
Settings > GTK theme preferences
. I took a screenshot: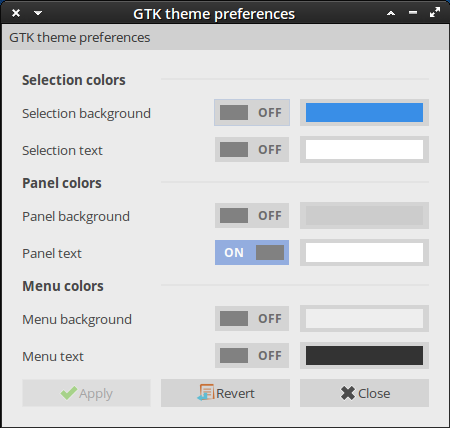 As you can see, I've turned the setting for adjusting the the panel text on, and changed the color to white. It works; as you can see in the
last screenshot I took
, the text in the panel is indeed white now.
I still don't know where/how to do this manually, but the app gave me the desired result so I'm marking this as solved.