pcdoctor
I'm still using Elyssa KDE. Can someone please upload the Gloria KDE wallpaper for me? I really like it. Thx.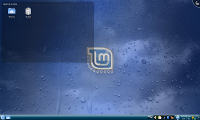 ---
---
pcdoctor
I saw this website last week and I typed in Gloria in the search area but nothing came up. I'll keep looking.
Well, I checked a few pages in the wallpapers area and couldn't find the exact wallpaper. There was a wallpaper called "rain" but it wasn't the same one.
I'm going to download the Gloria KDE RC1 and just extract the wallpaper so I can use it in "Elyssa". Thx for responding.
---
If you used the link I provided, and clicked the third from the top, you would have seen both colors. (Wallpaper of the month November)
---
pcdoctor
Oops, I guess it's time for me to get glasses since I'm over 30. Thx for pointing that out. I've been meaning to give the Gloria kde a try anyway. I'll download the wallpaper. Thx again for your assistance.
---
KDE is my desktop of choice . . . and I just Love Mint 7 KDE!
---
---