---
I stole this one from another thread, I love it!
Kernel: 4.15.0-46-generic x86_64 bits
Desktop: Cinnamon 3.8.9
Distro: Linux Mint 19 Tara

Laptop HP-ProBook-470-G2 8Gb RAM SSD
Server AMD Phenom 9650 - GEForce 9400GT 6Gb RAM
+ three other Mint machines
Out of my mind - please leave a message
---
---
---
Is it possible to have this one in higher resolution ?
@Zeno7
I didn't have the original file anymore, but I'll gave it a try. Imported and re-rendered the image again. I don't know if the quality is good enough. If not, let me know and I'll give it another try
(other dimensions are also possible)
link 3840x2160 ->
HERE
---
Level 19

Posts: 9838
Joined: Fri Oct 12, 2012 9:44 pm
Location: Australian Antarctic Territory
"There is, ultimately, only one truth -- cogito, ergo sum -- everything else is an assumption." - Me, my swansong.
---
Level 2

Posts: 61
Joined: Mon Jan 02, 2017 9:05 am
This one is now the background image of my Grub Menu.

Many thanks, catweazel !!
Avatar by Troken
---
---
---
Took two photo from google and merged what I liked.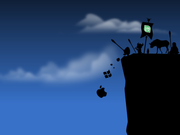 ---