Hi,
On my last computer with mint 17 my wndows were configurated with : theme = mint-x - borders = Splint-Left - icons = Mate
I obtain that :
On mint 19 with the same config I obtain that :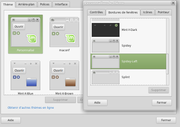 The difference is that background zone of the the window label is grey and I can't change it. It's the same for any colours of the standard theme.
So white text on grey background made it unreadable.
Is there a solution to have a coloured background border ?