stupid question, I have now configured NIS on my fresh install how can I change the user name on the login screen (i.e. get a username box), only the name of the user I created at install time appears, at the moment I'm logging in on the first virtual terminal and running startx
Last edited by
Moem
on Sat Jan 13, 2018 8:23 am, edited 1 time in total.
Reason:
Marked this as [SOLVED] for you; please note that you can do this for your own topics. Thanks!
---
in the menu search for Login Window open it click Theme and select one of the Arc-Wise Userlist
---
actually now I've ran startx as a NIS user and rebooted that NIS user appears on the login with the local user!
however to get a username box I'll try your suggestion, cheers
---
solved - under 'login window' -> 'Users' tab there is the option 'Allow Manual login' with this set to 'on' it adds the option to enter a username.
PS no Arc-* anything appeared under Themes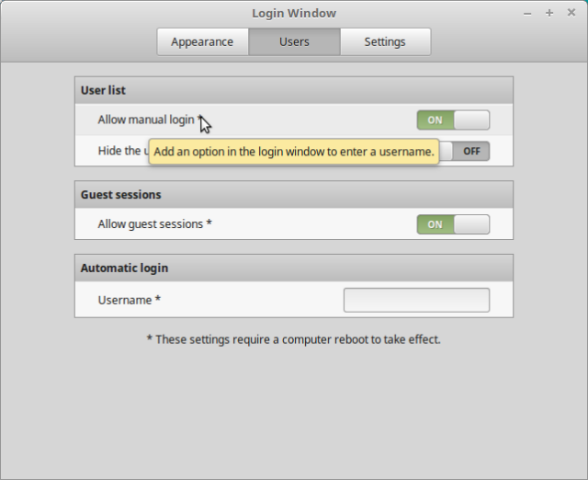 Last edited by
mudshark
on Sat Jan 13, 2018 5:58 am, edited 1 time in total.
---
i believe you need to install the
mint-mdm-themes
package to see all available in repos some have all users listed on one page like the Arc Userlist Themes
---
thanks, but my own reply above is the solution, I don't want a user list (we have lots of users) but simply an input box that you put the username in.
---