Level 5

Posts: 775
Joined: Sun Jun 27, 2010 7:01 pm
Location: Birmingham, AL., USA
Mint 20 Cinnamon / i7-4790 Processor
Nvidia GeForce GT 720 / 8 GB Memory
Took a while, but I am getting back from dark flat boring world to a time 15 years ago when there were shadows, round corners, colours and lots of fun and cusomisation. Sadly the simmple screenshooter did not take the mouse cursor what is a cone, has the pinkish red of Bougainvillea with a tiny mint coloured dot where the hot spot is and a thin colour rotating circle underneath. You can see all my settings on the right side. The bottom bar and the plank are auto hide. Screen resolution is 1280x720 on a 13.3" full HD screen. I work in a bright sun filled environment, so I like everything bright and colourful too.
And when you work for nearly 40 years in front of screens, your eye sight is more 65/65 than 20/20.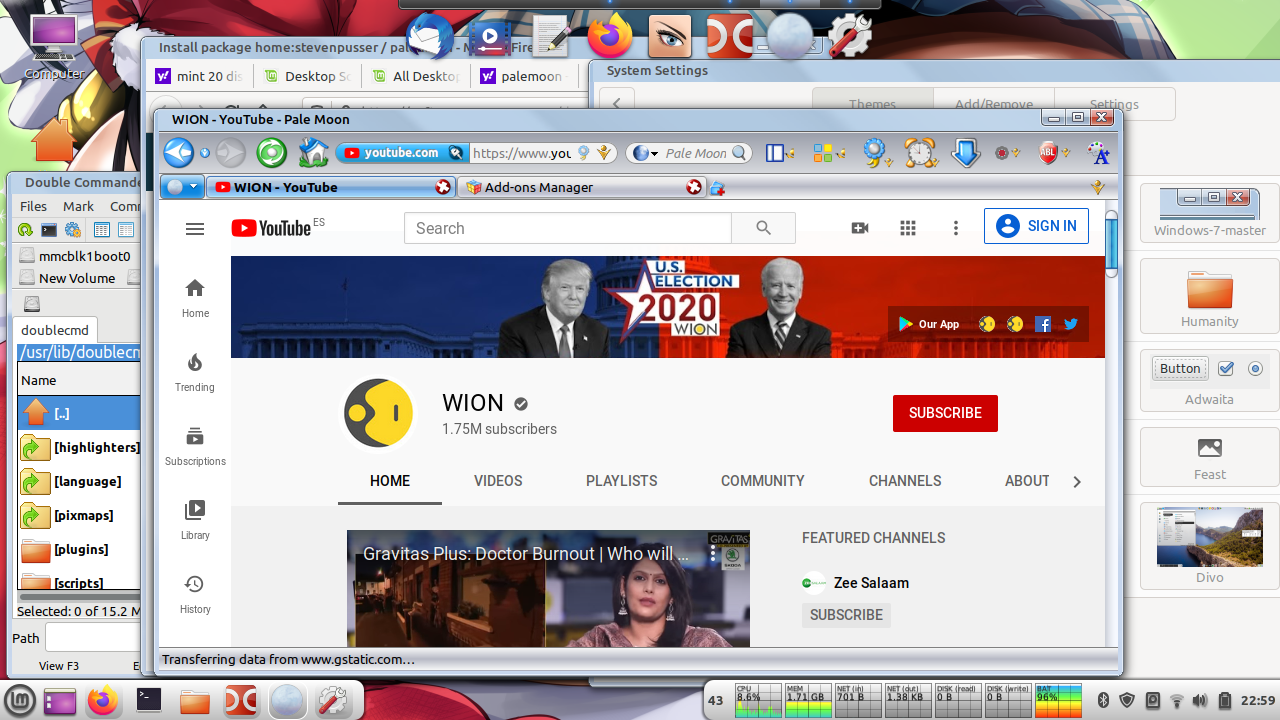 Testing with (deepin) Mint20C right now:
"2011: ASUS is proud to deliver the world's first ultrabook..."
ASUS ZenBook UX31E
(now triple boot Win 7, Win 10, LM 20)
Level 10

Posts: 3346
Joined: Mon Aug 27, 2012 10:17 pm
It's pronounced kad-eye-cha, not kada-itcha.
My Desktop Layout; Simple and Aesthetic
Level 8

Posts: 2205
Joined: Thu Jul 02, 2020 12:52 pm
Kadaitcha Man

wrote:

↑

Sun Oct 11, 2020 6:55 pm

That desktop is very reminiscent of this...
Nailed it
@akaKush - that's more my style, simple and clean. I use numix circle icons too. If you haven't already considered it though take a look at breeze snow cursors, they work nicely across GTK and Qt applications.
Don't take life so seriously, nobody gets out alive anyway!
AMSTRAD CPC6128 - 128KB RAM, 3" Hitachi Floppy Diskette Drive, External Sony Cassette Recorder, Locomotive BASIC 1.1, CTM-644 Monitor
you are absolutely right,
I rather have fun and happy crazyness than the 2020 destructive crazyness.
I try at least to counter act that in my environment where I can control it.
I am different, no smartphone, no social media, no norm and never main stream.
... and Palemoon is just a joy to customize like an 70th acid trip, because it is the only browser WHO CAN!
Testing with (deepin) Mint20C right now:
"2011: ASUS is proud to deliver the world's first ultrabook..."
ASUS ZenBook UX31E
(now triple boot Win 7, Win 10, LM 20)