I have held off on replying until I was able to do some Timeshift testing in a virtual machine. Remember when I said the following?
My memory was correct. On first run, Timeshift shows a wizard (you can access it again later) with the following initial page: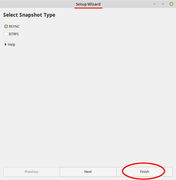 If you press [Finish], all the settings that I showed before are accepted. That is, it defaults Timeshift backups saving to the root partition and 5x backups total, daily frequency. As a user, I
assumed
that since Timeshift was now an essential part of Linux Mint's update process, I could trust the default settings without further consideration. Keep in mind, when you click that wizard's [Finish] button, it gives you a big green ☑ "Timeshift is active" indicator—i.e., everything's good! And it does NOT show the save location or frequency unless you actively seek it out in settings.
I thought I'd try this, because I do have a spare USB storage device. So I formatted it ext4, called it Timeshift, and promptly backed up my laptop's Mint. Then, I went over to my desktop to back up that Mint system, only to find that Timeshift was showing the laptop snapshot. It apparently does not distinguish between different systems/hostnames, at least with rsync, no idea regarding btrfs. Timeshift also states that it saves to /timeshift and this is not user configurable.
Code: Select all
•Snapshots are saved to /timeshift on selected partition. Other locations are not supported.
So even if I wanted to, I could not make separate directories for /desktop and /laptop snapshots on the same storage device. How cumbersome!
I did not dare even come close to the [Restore] button, because I didn't want to hose my system (again) by restoring the laptop partition to the desktop. Hence, virtual machine testing. After selecting the laptop snapshot in the virtual machine, which is not distinguished in any obvious way in the Timeshift UI from any other machine's backup other than date/time and system version (both laptop and desktop are 19.1 Tessa), I went thru the restore process, partly shown here: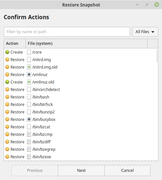 It then says
Code: Select all
Data will be modified on following devices:
Device      Mount
---------   ------
/dev/sda1   /

Please save your work and close all applications.
System will reboot after files are restored.
Along with a disclaimer about no warranty, no responsibility for a FUBAR'd system, etc. Standard CYA fare.
Click next, and it was off to the races, restoring a Timeshift snapshot from my laptop, to a Mint virtual machine. Never a warning about "the snapshot system's hostname does not match the hostname of the target system" or anything similar. What this
means
is, if you use Timeshift to backup more than one system on the same external storage device, and those systems are the same version of Linux (in my case, 19.1 Tessa), there is no distinguishing between the snapshots and you are very likely to screw up your system when restoring a snapshot. Like this, the first reboot of the virtual machine post-Timeshift restore: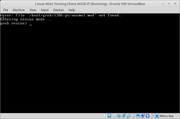 Oopsie.
I'm guessing the virtual machine screwup mainly has to do with legacy vs. EFI boot, as the laptop Mint is EFI. I tried the restore a second time as a test, selecting the "Update initramfs" option, but no dice. Still FUBAR. Also, thank God for virtual machines. Seriously.
This is a fair point, but I also will note that many new users follow guides on "How to install Linux" and many of these same guides recommend a separate, only-as-large-as-necessary root partition (~20GB) and a separate /home partition. When I started out, I followed a guide like that.
gittiest personITW

wrote:

⤴

Fri Jul 05, 2019 6:43 am

Have you made a suggestion to teejee software?
At first I was unable to find any contact email address, only social media, which I don't do. Further investigation revealed a PayPal donation email. So I will be sending a friendly email to teejee and directing him to my concerns in this thread.