I had some recording issues with Audacity recently.
After much searches I got a solution, which I share here.
Let me tell you, this is how I Solved. You may have to do some more experiments with the settings.
Step 1. Open Audacity > Change the default "PULSE" to the device ends with the (hw:0,0) which is seen on the right side of the "Mic" Icon.
Step 2. Change the default setting also right to the "Speaker" icon.
Try the recording.
I am happy with it. Hope you too.
All the best and happy recording/ Editing with Audacity.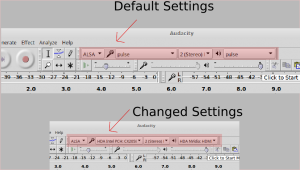 Better Image: