Greetings,
I have a series of new problems that I stumbled upon once I switched from LM19.3 to LM20.
On LM19.3 I had no HDMI output on my hybrid graphics laptop (Nvidia GeForce 1650 with AMD integrated graphics), but the issue was solved in this thread:
viewtopic.php?t=316110
This time around I have more problems. Firstly when I boot Linux Mint, the logo shows, but is then followed by a black screen. Unless I load LM through recovery mode, I cannot boot the OS. This is very troublesome, because booting through recovery mode also disables hardware acceleration. Nvidia X Server Settings are empty.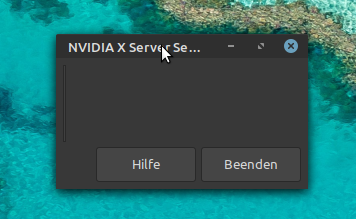 If I enter the following commands into
Interesting Observation:
When I boot my laptop and connect it to the TV via HDMI, the Linux Mint logo can be seen both on my laptop and TV screen, after that both the TV and my laptop are left with a black screen.
System information:
https://termbin.com/0of0
Any help would be greatly appreciated, because this issue seriously hinders comfortable usage.
Kind regards