I have a peculiar situation. I have some additional internal drives. All mounted since OS install with "Auto mount at startup" enabled.
Any links or applications using the partitions (e.g. steam) fails to see the mounts until I have clicked or accessed it in "Computer" ui or navigating to it directly in a terminal.
So for e.g. steam I have to exit, then go access the mount and re-open steam for it to detect the mount and my installed games.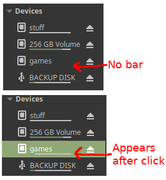 Code: Select all
System:    Kernel: 4.17.13-041713-generic x86_64 bits: 64 gcc: 8.2.0
           Desktop: Cinnamon 3.8.8 (Gtk 3.22.30-1ubuntu1) Distro: Linux Mint 19 Tara
Machine:   Device: desktop Mobo: ASUSTeK model: PRIME Z370-A v: Rev X.0x serial: N/A
           UEFI: American Megatrends v: 0615 date: 04/11/2018
Drives:    HDD Total Size: 3506.7GB (10.0% used)
           ID-1: /dev/nvme1n1 model: Samsung_SSD_960_EVO_250GB size: 250.1GB
           ID-2: /dev/nvme0n1 model: Samsung_SSD_960_EVO_500GB size: 500.1GB
           ID-3: USB /dev/sda model: 015 size: 2000.4GB
           ID-4: /dev/sdb model: Crucial_CT256MX1 size: 256.1GB
           ID-5: /dev/sdc model: Samsung_SSD_850 size: 1000.2GB
Partition: ID-1: / size: 196G used: 31G (17%) fs: ext4 dev: /dev/dm-1
           ID-2: /boot size: 705M used: 502M (77%) fs: ext4 dev: /dev/nvme1n1p2
           ID-3: swap-1 size: 34.29GB used: 0.00GB (0%) fs: swap dev: /dev/dm-2
RAID:      No RAID devices: /proc/mdstat, md_mod kernel module present

edit: it has been like this since install.