#1: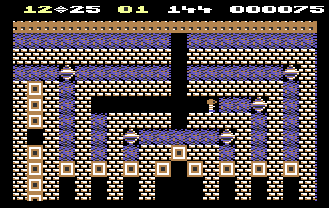 We were in 80,s I was about 5 or 6 years old, it was the time of home computers, we didn't know yet about PC's nor MAC's, my father was learning himself by books one of home computers I don't remember its name, one day he ran "Boulder Dash" game from the cassette, he learned me how to play and I continue myself discovering the keyboard. I felt so good after I became more familiar with the game and the keyboard, and after gained some understanding, computer is good thing, you can enjoy yourself with games and these kinds of graphics, that graphics have their art and beauty which we can call "computer art", it made strange beautiful feeling in my heart.
One author said about that time that the meaning of learning computer was the synonym of learning programming, that was what my father was doing lot of time, learning programming in BASIC with home computers, he was mathematics teacher and I think he was attracted by the computer and programming, he programmed many example he read or tried like that draw geometric graphics on TV's (computer's screen at that time), he spent about 8 or 10 years like that way before buying first PC, there was no expecting in his mind at that time that we can use home computers to make commercial programs, I think that, I think that he thought that the programming is a useful activity and it's good for training and increasing intellectual skills. After PC's coming, he learned himself GW-BASIC and DOS, then when QBasic came, he went to QBasic environment and learned it.
I didn't hear that my father met a professional in computers and asked him some help, maybe that kind of programmers was rare at that time around us, but there were hobbyists like my father and they may exchange the oil about computers. But most the time he was buying books and learning from 'em. With QBasic he tried to make programs to use 'em in real life, useful programs for his work, database kind, it was so difficult with QBasic in case of that not all oil you need is available at that time, I didn't hear about Internet at that time. After, OS's used GUI, my father started to discover new stage, the visual programming, magic was on him because of VB at its first days, at that time I heard about Internet and started to discover it, some people at another parts of world used Internet under DOS but we weren't of 'em.
I think my father dream was the successful making of database programs, and he succeeded in a part of his dream and some people asked him to program programs for 'em and he succeeded to gain some money too and to have good position and reputation in his work, and I think he gave lessons in computer and programming in VB. I think after he has reached to be in a level in database programming that made him to be some satisfied, he was ill and died, sad ending for that programmer!!