http://funding.openinitiative.com/funding/1578/
>> Kind-hearted souls - please contribute
May I also request you to reply here if you have donated.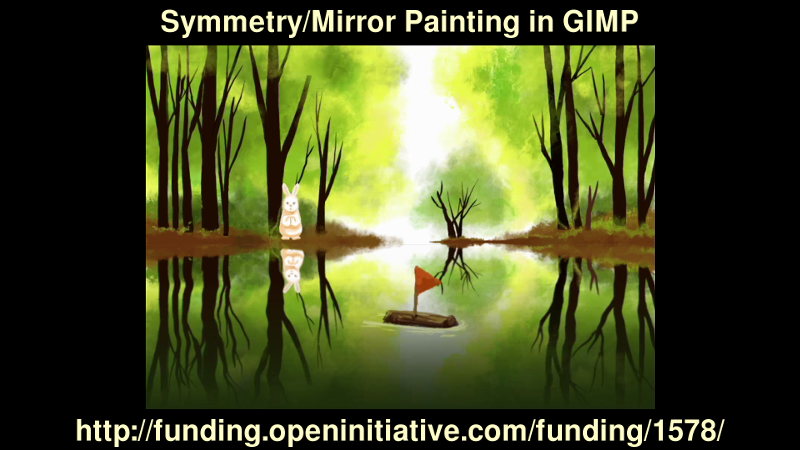 Proposition
implementing a mirror/symmetry painting feature into GIMP.
Description
GIMP is one of the main multi-usage, multi-platform (Windows, OSX, Linux, BSD…) image processing tool. On the painting side though, it lacks some common features. One of them is the ability to draw in symmetry mode in real time.
In order to have a drawing with perfect symmetry, currently the painter needs to either draw very simple forms, use some filter/plugin, or duplicate/flip layers. These are by far less practical and intuitive than seeing one's symmetrical drawing coming to life in real time as you draw.
Usage
I have met some artist who uses vertical mirrors in other software for instance to quickly sketch characters at first stages of design when time is worth more than arts. I could also easily imagine it would greatly simplify creation of symmetrical designs (logos, etc.) using complicated forms and drawing.
And probably many more example. For instance the original drawing in the below video. The painter Aryeom Han used my first (unstable and far from perfect) implementation test to draw a lake reflection, later modified with scaling, gradient and the warp tool to give it a watery feel.
Schedule
The crowdfunding starts on Monday, 16th of September. I hope it to be finished in about a month. Once I will finally start on the feature, I am planning for the implementation to be finished in a few weeks (the feature will need to be reviewed by peers to hit the branch, which may take more time, but I will attend to it being released eventually).