Linux Mint 19.1 Cinnamon
Kernels 5.0.0-20 / 4.18.0-25 / 4.18.0-20
~26GB / (root) partition
Separate /home partition
Recently I've been getting the occasional notification that my root partition was running out of space. My web browser has had memory leaks before that filled up RAM then most of the swap partition, so I mentally categorized this the same way. Thought it was a bug, shrugged, and rebooted. Things kept working...until today.
The notification said there was no disk space left for root. I opened Disk Usage Analyzer but it did not seem able to complete the analysis. I rebooted, got to the Mint login screen, entered my credentials, screen went black, then login screen reappeared as if nothing happened. Tried other kernels, no change. I tried Ctrl+Shift+F2 and was able to log in via terminal, but startx was not able to complete because it could not write some auth file to disk. It gave a whole screen's worth of errors.
Booted into a live DVD environment, and here is what Disk Usage Analyzer found:

Timeshift had filled up the entire root partition.
So I went in via said live session and deleted all snapshots to free up space. Then, after logging into Mint like normal, Timeshift had the following settings: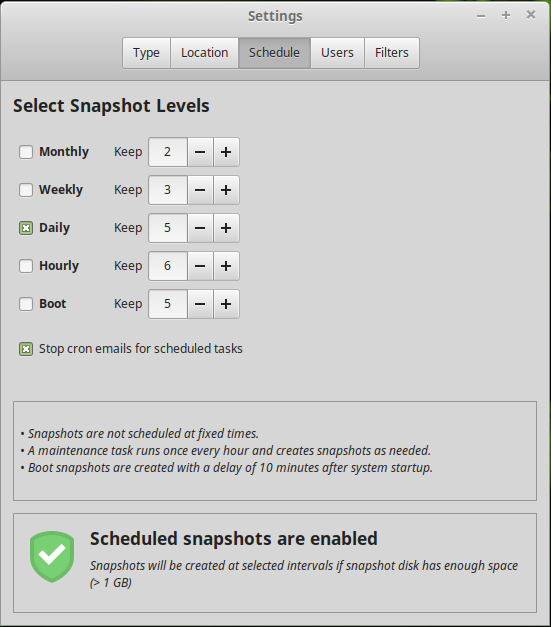 This is something I'm pretty sure I never messed with. Or I accepted default settings and went on my merry way.
Why is Timeshift allowed to completely fill up a partition, with presumably default settings? If I were an average user, with just Mint on my one computer, and no way to create Mint media, I'd be left without a working OS. I'm still a little concerned that some files may have been corrupted after having no free space to which they could write changes.