What's your diner tonight? Pics or it didn't happen!
Tonight, as I have to cook for myself (the wife is out), it's an all-time favourite of mine: brown rice, with lots of fresh paksoi speed-cooked in a wok with some green olive oil and freshly rasped garlic, and a hamburger made of high-quality Irish beef. A bit of aroma powder over the rice, and bob's your uncle. Cooked in about 20 minutes.
Pic: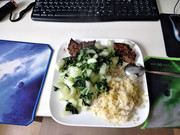 I especially love the crispy juicy taste of those paksoi stems. The hamburger also has an excellent firm bite. Yum!
For desert, a huge mug of strong coffee made from freshly ground Arabica beans (I grind the required amount of beans each time I make coffee), lightened up with a dash of milk. That puts the marrow back in a man's bones.
Pic: