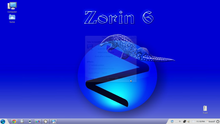 Today I have installed Zorin OS 6 core 32bit alongside Linux Mint 14 Cinnamon 64bit on an old desktop. After testing it , I ended up with the following conclusions:
1- Installer:
Zorin has a beautiful installer featuring an audio-video slide welcoming you in some 10 languages. It has alert sounds signalling transition when istalling the OS which are nice.
2- Looks:
Zorin OS has a very beautiful dock instead of the traditional panel layout which adds to its responsiveness and elegance.
3- Responsiveness:
Zorin OS is very responsive though it has compiz preinstalled and preconfigured.
the bottom line is that Zorin OS rocks. I love it and I think Mint has to learn from it when it comes to customizability and looks:D
Linux Mint is still my OS of choice but there are few things that need to be pushed forward
What do you think guys?