The problem is basically this: If I move a card off the window edge and back, it isn't getting redrawn properly.
It was the same both with Intel onboard graphics and Nvidia using the latest MINT supported nvidia driver.(331)
Compositing made no difference on or off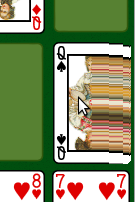 I cant reproduce it in any other application, so I suspect it is this version of aisle riot that doesn't play nice with the window manager or graphics toolkit
Anyone else got this problem?
Or have a fix?